Meet Our Principal – Dr Susan Bunkum PhD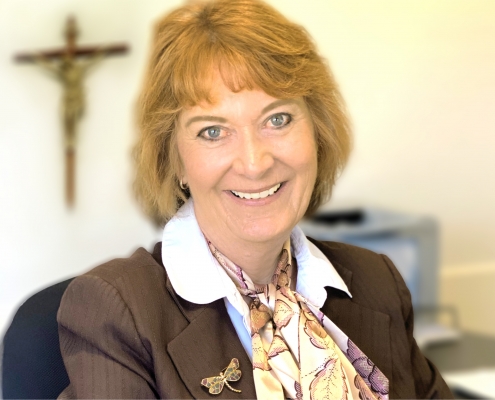 PRINCIPAL'S PROFILE
Susan Bunkum has held a number of senior leadership positions in Catholic Education in Queensland and Tasmania. She was appointed as Principal of Chanel College in 2016, moving to Gladstone from Hobart where she was Deputy Principal at Guilford Young College.
Susan has also held senior positions at Southern Cross Catholic College, Scarborough and St Rita's College, Clayfield. Educated at a number of schools across Queensland, Susan gained her initial teaching qualifications at the University of Queensland and then at Australian Catholic University.
She has also completed her Graduate Diploma of Arts (Religious Education) & Master of Arts (Theology) at Australian Catholic University. In 2016 she completed her PhD at Curtin University.
Susan is delighted to have the opportunity to lead our community in the next phase of growth and development. She is committed to a strategic and collaborative approach to providing the best opportunities for educating the students of Chanel College, Gladstone.
Welcome to the Chanel College website
Chanel College was established in 1966 to provide a high quality secondary education to young people in the Gladstone region.
Our College shares the blessings of two charisms inspired by our two founders, Catherine McAuley (Sisters of Mercy) and Saint Marcellin Champagnat (Marist Brothers).
Our College patron, Saint Peter Chanel, also provides us with a role model of compassion and dedication – values which we are committed to developing and nurturing in our students.
The College motto, To Live Justly (Micah 6:8), and our core values of Justice, Respect, Compassion, underpin our vision that the students of Chanel College aspire to be Respectful, Responsible and Resilient Learners.
We strive to provide a safe, welcoming, and nurturing environment for our students. Our priority is to ensure that all students have access to a quality education in an environment that is contemporary, aesthetically pleasing, and well-resourced.
As a College which promotes excellence in all pursuits, we offer a wide range of courses, sporting programs and co-curricular opportunities, that allow young people to thrive, both in the classroom and beyond. Our teachers are dedicated subject specialists who are constantly working to improve the learning opportunities available to the young people in their care.
We have high expectations in the classroom and beyond. As a College community, we are very proud of our rich traditions and of the accomplishments of our students.
I invite you to explore this website and to glean an insight into our wonderful College community.
Dr Susan Bunkum PhD
Principal, Chanel College